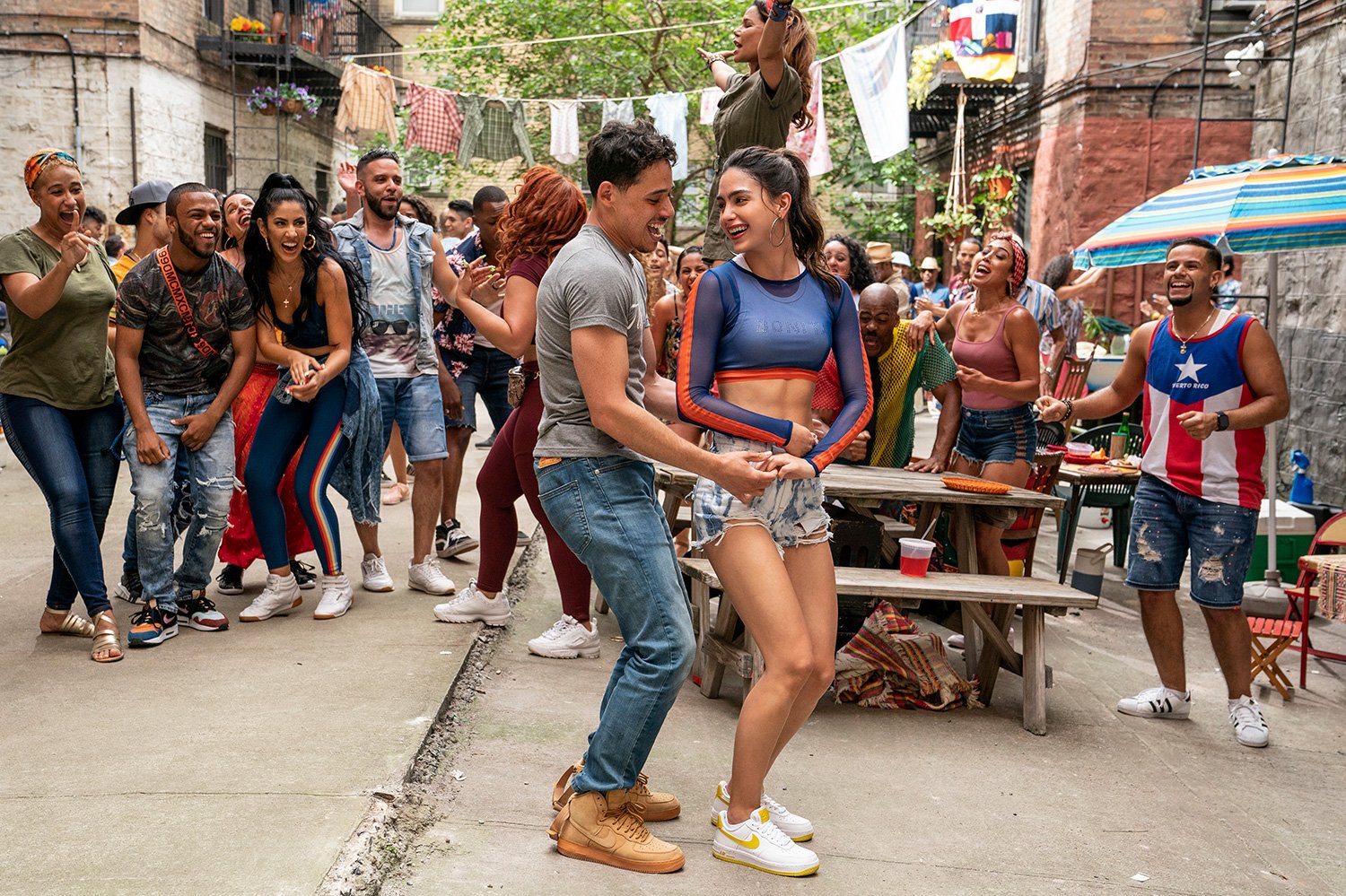 REVIEW: In the Heights
Nina stands up from her old wooden bench in the middle of the park and presses against the chain link fence. She locks her fingers around the twisted metal and sighs, "Let me just listen to my block." This is what Hamilton creator Lin-Manuel Miranda is inviting audiences into with his 2008 musical In the Heights, which has finally been released as a major motion picture (another one of those delayed 2020 releases). The musical centers around the Washington Heights neighborhood in Upper Manhattan where Miranda grew up and now most of us can return to theaters and listen to this vibrant and resilient block.
Miranda says that he began writing In the Heights because, as a Latino man, he didn't feel seen on the stages he dreamed of working on. That is ultimately what Heights is about; dreams, what they're made of, and the dreamers who dare to have them. "On these blocks, you can't take two steps without bumping into someone's big plans," says Alejandro, a lawyer friend helping main character, Usnavi, accomplish one of his. As with many marginalized communities, though, dreams are sometimes easier dreamt than realized, and that is true of the leads in Heights.
Vanessa wants to open her own designer fashion boutique only to fall short on the impossibly high credit requirements needed to rent the space. Nina is incredibly gifted academically and has her family sacrificing everything so she can attend Stanford only to be met with debilitating isolation and constant microaggressions. Usnavi's younger cousin Sonny can't wait to contribute to the world, but actually is a Dreamer living in the Heights undocumented. Each character, and really the entire block, is on the string of a yo-yo bouncing back and forth between fighting for their dreams and then feeling their dignity stripped away pushing their dreams farther and farther into the future. Push and pull. Up and down.
There are times when you can see each character feel their inherent, human dignity. Vanessa wearing her power blazer and clutching her sketch book of designs as she finally has enough money saved for deposits on her rental space. Nina's father, Kevin, with a goofy smile on his face seeing his college student daughter sitting across the lunch table. Then the yo-yo drops back down. It is hard to chase your dreams when you've lost your sense of dignity. That is why the great John Perkins would often say, "You don't give people dignity. You affirm it!" That is exactly what community matriarch, Abuela Claudia, does for the young dreamers in her neighborhood.
"We had to assert our dignity in small ways," Abuela tells Nina, "Little details that tell the world we are not invisible." How do they do that in a neighborhood and a system that often feels like it's holding them back? There is a palpable tension here between needing the community of the Heights to survive but looking at the sky and seeing a world far beyond the island that they're on. Their grandparents, parents, and other family members left dire circumstances as outlined in the passionate ballad "Paciencia y Fe (Patience and Faith)" to bring them to this block, but many feel like the only way they'll achieve their dreams is by leaving it.
How did Miranda find a way to affirm his dignity? Well it's in the notes, the lyrics, and the moves of In the Heights. He felt like he was being ignored and so found a way to communicate his experiences so that others had to listen. There is so much life in the show itself, but then Warner Brothers combined Miranda's vision with the direction of Jon M. Chu (Crazy Rich Asians). If you're familiar with his previous film at all, In the Heights is like the visually stunning wedding scene in Crazy Rich Asians turned up even further.
Chu managed to make a movie musical that feels like a stage production while also feeling like you are in the middle of this neighborhood and the character's lives. In a story about a place, the Heights really do come alive and act as a character in the film in so many ways. It will be hard for some to not compare Heights with legendary, groundbreaking productions like West Side Story. That film took home the Oscar for Best Cinematography in 1962, and rightfully so, but here we are now in 2021 and Chu and his team have redefined what we can do with the movie musical going forward. I will say now having seen it twice, once on the big screen and once streamed at home on HBO Max, Heights begs to be seen at the theater with an unreasonably big screen, booming speakers, and a sticky floor to tap your feet on. If you are ready to safely return to theaters where you are, then this would be a great movie to do it with.
The success of In the Heights on Broadway no doubt paved the way for Miranda's incredible success. Hamilton was next and then it was a line of Disney projects like Moana and Mary Poppins. It is safe to say that Miranda is a genius, he was a recipient of a MacArthur Genius Grant in 2015 after all, but is that what it takes for people to listen to your story? The real genius of Miranda's work is that he has been able to create roles for himself while also shining a light on the stories of others who may feel the way he does. Who knows who might feel heard and seen in this story and what they'll create?
In the Heights has the opportunity to place you exactly where the title says. In some ways it's a fantasy, like most movies are, of a place where dreams come true. It's also a reality of hardships unique to people of color and the communities that weather those hardships together. It is a great addition to the American song book if we are willing to lean in and listen.
In the Heights is currently in theaters as well as streaming on HBO Max.