How to Overcome Anxiety (Part 4 of 4)
The last 3 posts have gotten more feedback then anything in recent history. I think anxiety is something that all of us deal with at varying levels and in varying ways. If you missed any of them, this is WEEK 1–intro, stats and stories, WEEK 2–counselors advice, and WEEK 3–other strategies.
So where we finish might be the most important post of the 4. If you are a follower of Jesus, there is something (or someone) who can be an incredible help. Even if you don't follow Jesus, you might want to try reading some of these Scriptures, and see if God speaks to you. The Bible is a living document–it is active and dynamic and it can speak truth and love and comfort right to your heart. So can Jesus. He wants to bring you peace and security. Here is a sampling of verses about anxiety and worry and peace.
He [God] will keep in perfect peace him whose mind is steadfast, because he trusts in you. Isaiah 26:3
Do not be anxious about anything, but in everything, by prayer and supplication, and with thanksgiving, let your requests be made known to God. And the peace of God, which surpasses all understanding, will guard your hearts and your minds in Christ Jesus. Phil 4:6-7
When anxiety was great within me, your consolation brought me joy. Psalm 94:19
Anxiety weighs down the heart, but a kind word cheers it up. Proverbs 12:25
Come to me, all you who are weary and burdened, and I will give you rest. Take my yoke upon you and learn from me, for I am gentle and humble in heart, and you will find rest for your souls. For my yoke is easy and my burden is light. Matthew 11:28-30
Does this typify your life?  Rest for your soul…An easy yoke and a light burden?  Are you free? Do you experience freedom? Because most of the time I have to confess that this isn't typical of my life. More often I'm characterized by hurry, pressure, anxiety, heavy burden, worry, and being scattered. I need to remind myself of this reality. I'm good. I have nothing to lose. Heaven awaits.
Cast all your anxiety on him because he cares for you. I Peter 5:7
Cast all your anxiety to God because He cares for us. Sometimes when I cast it all on God, it gets snagged.  Like when you're casting a fishing line and it gets snagged.  My sister once cast a line into the water while we were fishing and it got stuck in my head.  That's like my anxiety.  I start to send it on or give it up and it gets caught in my head. Or I cast it out and it's like a boomerang.  It comes roaring back. If you've ever been to Young Life camp, it's like the shot heard round the world. We fire it off in some direction and then after a little bit it comes sneaking back.  Only this one's not funny.  Actually, usually the shot heard round the world isn't that funny either. 
The Lord is my stronghold of my life–of whom shall I be afraid?…For in the day of trouble he will keep me safe in his dwelling; he will hide me in the shelter of his sacred tent and set me high upon a rock. Psalm 27
The mind governed by the flesh is death, but the mind governed by the Spirit is life and peace. Romans 8:6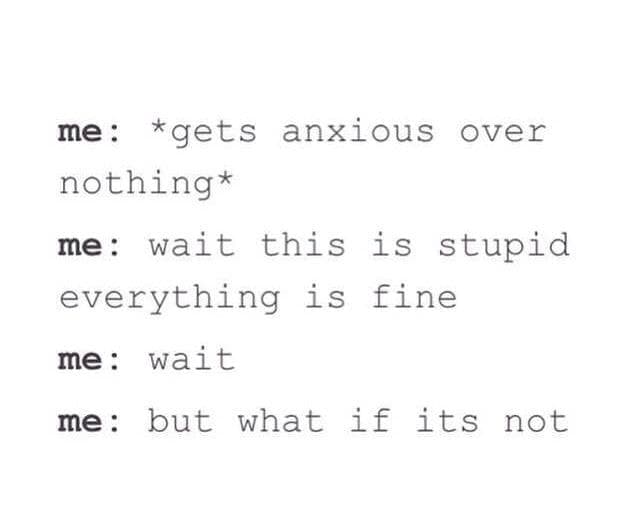 What other Scriptures have helped you? What other methods or strategies have helped you? Please comment below.
This is where I want to end. It is the second verse I memorized in my life. (the first one being John 3:16) We need to remind each other of this reality often. Let's let His word be the last word. Jesus has spoken to us so that in Him, we may have peace. We will have trial, tribulation, trouble, and more. It's not if we will struggle and run into challenges, it's a when. But we can take courage, Jesus has overcome the world. We have nothing to lose. We can't lose. Let's trust in Him and tackle this anxiety thing. We can do it. YOU ARE NOT ALONE.
I have told you these things, so that in me you may have peace. In this world you will have trouble. But take heart! I have overcome the world. John 16:33