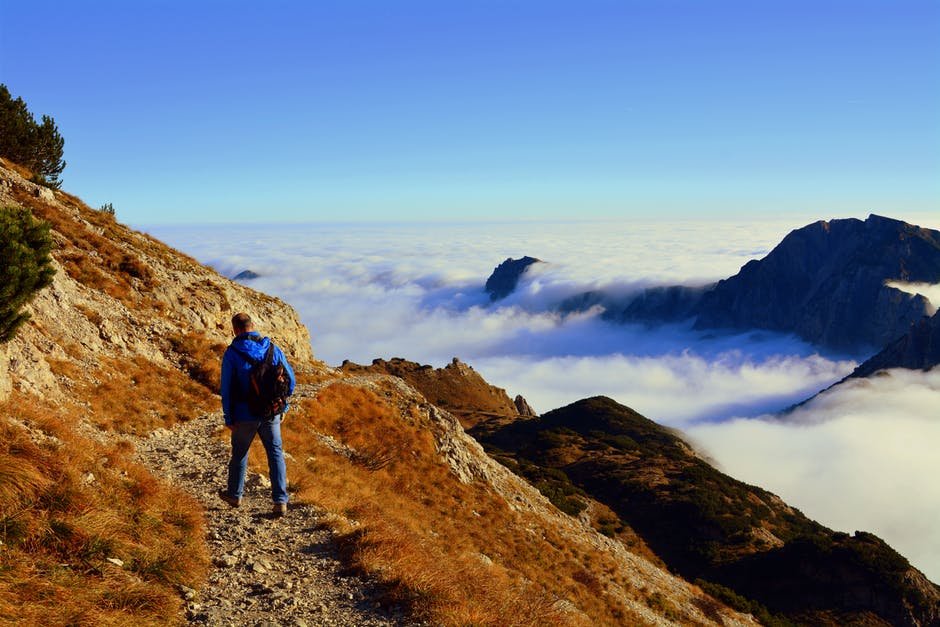 Gaps
This past summer a friend and I flew to Colorado for a weekend hiking trip. 48 hours and a few unmentionable mishaps later, we had stood on top of six different 14,000-foot peaks.
To pull off this overly ambitious plan, it meant primarily hiking the ridgeline, entirely exposed to the chilling alpine winds. In one frightful stretch, furious gusts forced us to repeatedly brace ourselves from sliding over a steep cliff. The roaring wind against the backdrop of soaring, snow-capped peaks was both terrifying and exhilarating. You could feel the wind piercing skin, winnowing to the bone. We felt small and insignificant amidst something uncontrollably powerful and wild.
In reflecting on this experience, it was surprising to recall the wind most intensely not at the peak, but in the gaps between. There is something about these gaps in the mountain ridge, where danger and beauty swirl together, that has captured my thoughts in recent weeks. Between the harrowing peaks is exposure to the very things that threaten life and steal away comfort, but also offer a glimpse of heaven itself. It is in the gaps you see the expanse below, and the authority of towering heights on either side. As much as these places are merely the physical features of the mountain landscape, I believe there's a deeper truth and meaning hidden there.
In the book of Nehemiah, there is mention of these gaps not in a mountain face, but in the wall that surrounded Jerusalem. When the Israelites returned from exile, the first task was to rebuild the wall. While doing so, they were surrounded by enemies on all sides. To work in these gaps, a man had to stand exposed to his enemies. He would have to put down his sword to lift the next stone. Later in the Old Testament, the prophet Ezekiel referred to this idea and called out false prophets as those who had "not gone up into the gaps." The false prophets in Ezekiel's context were unwilling to leave comfort to say what needed to be said. They clung to temporal safety while forfeiting any experience of actual Truth or Kingdom growth. Ultimately, it was this clinging to comfort and a denial of the call of God that led to the nation's downfall time and time again. They were unwilling to stand in the Gap, and everyone suffered for it.
I think this call to stand in the gap is just as applicable today. Yes, standing in the gap means exposing one's self to potential harm and abuse, but it was also in the gap, the mountain cleft, where Moses and Elijah both caught a glimpse of the living God. I do not think this is merely coincidence. We may not be faced with literal mountain gaps to stand in, but every day we are faced with the gaps readily present in our communities and relationships. Without much thought, we can name the relational conflicts we are currently in. With perhaps even less thought, we can name the societal issues and debates dividing our communities and nation as whole. We know to address these gaps requires vulnerability, or even exposure to harm, but clinging to comfort or safety will never bring soul level redemption. Our souls remain muted and caged if we choose to avoid these places. It is in the wind and exposure where our flesh is called to fuller feeling and heightened awareness. I believe our souls are the same. As much as the gap is biting and uncomfortable, it calls the soul to see and look outside of itself.
To follow Jesus is to leave comfort, to let ourselves feel the whipping winds of potential danger, knowing it is there He is most present and tangibly experienced. We know and see His nature most powerfully in the cross. He exposed Himself to abuse for you. He let His flesh be torn apart for you. If we choose to stand in the gaps with Him, the cross moves from idea to full-bodied experience. We get to risk temporal safety for a life and beauty with Him far above anything in the valleys below. Go stand in the Gap. He is waiting.