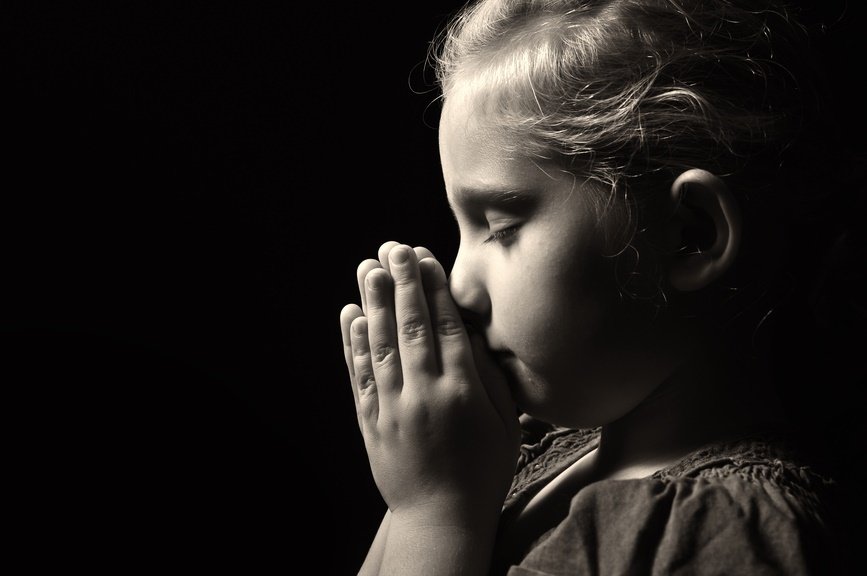 A Kid's Faith that Grows and Gos
This is Part 4 of a four-part series entitled, "Good King Jesus: Teaching Kids to Pray Boldly." You can read Part 1 HERE, Part 2 HERE and Part 3 HERE.
In the end, we want to teach our kids to prayer boldly to a God they deeply trust. I am concerned that much of what I hear about the character of God in Christian circles doesn't reflect much of what I know about the God revealed in the Bible.
The God I hear described is an angry tyrant. A God who is vindictive toward His children. A God that seeks justice first and finds mercy only necessary as a last resort. That isn't the God I worship.
Is God holy? Yes!
Is God mighty? Yes!
Is God just? Yes!
But, is God to be feared? I don't think so. Not feared like a monster under the bed or a stranger who wishes us ill. When the Bible says fear, it surely intends that we should have deference and awe for a holy and GOOD God.
Does the violation of God's holiness have to be paid for? Of course! That is why God sent His only son. It is vital that our kids understand that Jesus has paid the price for their disobedience. Jesus took the justice that God should have given us, so that God could give us the mercy and blessing we didn't deserve.
The New Testament reminds us of this truth over and over again.
"Look at the birds of the air: they neither sow nor reap nor gather into barns, and yet your heavenly Father feeds them. Are you not of more value than they?" (Matthew 6:26)
"The Lord is not slow to fulfill his promise as some count slowness, but is patient toward you, not wishing that any should perish, but that all should reach repentance." (2 Peter 3:9)
"Every good gift and every perfect gift is from above, coming down from the Father of lights, with whom there is no variation or shadow due to change." (James 1:17)
I have suggested several ways we, as parents, might view God as a good King. It seems vital that our kids grow up knowing in the deepest part of their being that God is never their enemy. He is 100% for them all of the time.
In a world full of bullies, God wants to assure our kids time and time again that once they put their faith in Jesus they are no longer His enemies but are His friends. Over time, persistent reminders of this truth will build trust with our kids as they learn how to pray boldly for themselves.
Yet, at the beginning I admitted that all of this learning for myself was rooted in realizing that my own son didn't know how to pray. Right thinking about God is at the root of teaching our kids to pray boldly, but it might be helpful to close by considering some structure to the ways in which we guide our kids in prayer.
We all know that kids learn through repetition, so after ensuring that our kids have a clear portrait of God, of next order importance is that we give them a rhythm for how they pray. I have found it helpful to ask my kids these three questions as a way of guiding each towards God's heart for them:
What two things are you most thankful for today? We first want to turn our kids' hearts toward thanksgiving each day. By asking them to focus on what positive things they experienced during the day, it puts our kids in a position to, first and foremost, focus on God's goodness towards us each day.
What two things are you most excited about tomorrow? Lives built on hope focus on the future rather than the past. We want our kids to be filled with hope and expectancy about their future, so each day we should ask them what are they excited about and how they would like God to bless those things.
What two things would you like to see happen this week? God is a Father who wants to be approached boldly by His children. Jesus wants to know our deepest desires, fears, and hopes. We should encourage our kids to boldly ask God to work on their behalf, to bless them, to show them favor. As our kids more deeply understand who God is to them, the more they will realize their God is for them. They should always ask – He always wants to know.
Parenting isn't a science. It's messy. It's hard. There aren't always clear, right answers. Yet, it's unbelievably rewarding. Prayer isn't natural for many of us, but it can be. Once we have built a clear narrative with our kids about the nature of God through the Bible's stories, we are able to teach our kids to pray boldly to a God who, because of Jesus, loves them, wants what's best for them, and has designed a destiny just for them.