What I Learned About Grief from Mary Poppins
If you haven't seen Mary Poppins Returns yet, make plans to do so! No, it is not as good as the original (how could you top that!), but the message and whimsy and music are worth the price of admission.
Slight spoiler alert… a grown-up Michael Banks has recently lost his wife. He and his three kids are facing the threat of losing their home on Cherry Tree Lane when Mary Poppins descends from the sky. The similarities to my family's story are many. My husband, also Michael, lost his lovely wife Caroline to cancer. He was left with a bushel of kids (aka 4 sons and a daughter) and had to face the reality of a drastically altered, unknown future.
"Why doesn't Michael fall in love with Mary Poppins?" my husband whispers in my ear. "Then it would be like our story." Smile. But, in reality, I'm no Mary Poppins.
For one thing, Mary always looks impeccable; "practically perfect in every way" reads the measuring stick. My reading would probably be "barely holding it together but smiling despite the chaos".
Mary Poppins always knows just what to say (supercalifragilisticexpialidocious), when to be silent, and how to keep the children guessing. Her no-nonsense, chin-up attitude is balanced by her kindness, intuition and imagination.
Also, she's magic. As much as I would LOVE to ride the banister up the stairs, have tea parties on the ceiling, jump into chalk paintings, and clean up the nursery with a snap, I am reluctantly rooted to the earth and bound by the laws of nature.
It's true… I lack many qualities of the indomitable Mary Poppins, but I did enter a family full of questions and broken hearts.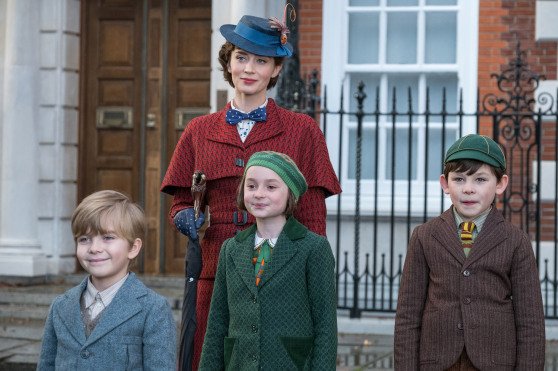 The Banks children, like my children, grieve their mother's passing. In answer to the Dad's question in the movie, "Where'd she go?", my little Salem piped up, "She went to Heaven!".
Mary Poppins has a way of helping them process their emotions. "Gone but not forgotten is the perfect phrase."
The last time we visited Caroline's grave at Christmas, Salem was full of questions.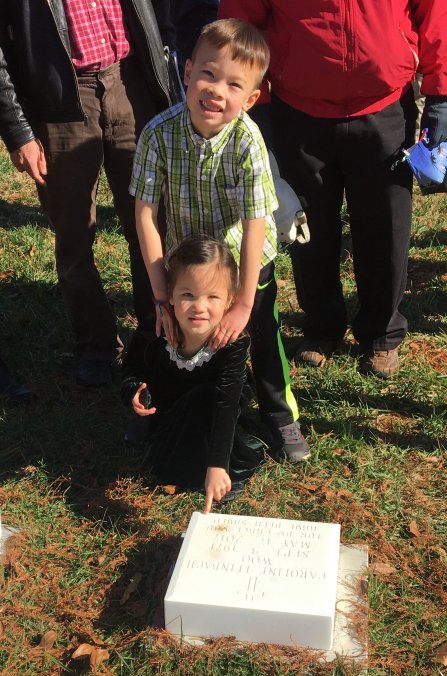 "So Mommy's bones are in the grave, but she is with Jesus? How?"
I tried to explain that the real YOU is not your fingers and toes, your physical body, but your heart and soul. That's the part that goes to be with Jesus. I wish you could see her little face, brows furrowed as she puts her hand on her heart and tries to understand.
"It's like a turtle," I said, covering one fist with my other hand and wiggling my thumb as the turtle head. "The shell is not really the turtle; it's what's inside that's really his true self. The shell is buried in the grave, but the real person, your Mommy's soul went to be with Jesus." She nodded, trying to grasp such a big concept.
She's brought it up a few times, so I know she still thinks about it. It's not unusual for her to ask me questions about when I'll die. "When I'm a mom, will you still be alive?" "Will you die before me?" And this past week she told me that she wants to "be dead at the same time as me." "They can just have one funeral for us," she reasons. Sweet little girl can't stand the idea of burying another mother.
What would Mary Poppins have said, I wonder?
In Saving Mr. Banks, the story behind the making of the original Mary Poppins, Walt Disney is trying to persuade P. L. Travers, the author, to sign over the rights to make the movie. He relates to her difficult childhood and recounts a painful memory of his father.
"I'm tired of remembering it that way. Aren't you tired too, Mrs. Travers? Now we all have our sad tales, but don't you want to finish the story? Let it all go and have a life not dictated by the past? That's what we storytellers do. We restore order with imagination. We instill hope again and again and again."
"But we do not want you to be uninformed, brothers, about those who are asleep, that you may not grieve as others do who have no hope. For since we believe that Jesus died and rose again, even so, through Jesus, God will bring with him those who have fallen asleep." ~ I Thessalonians 4:13-14
I want to be a part of finishing the story. To instill hope again and again through the power of the Holy Spirit. To comfort, to remember, to look to the future.
"I never thought I'd feel this much joy and wonder again! I thought that door had closed in my life forever," Michael Banks exclaims as the door to his home is blown open by a gust of magical wind, and my Michael squeezes my hand. And, unlike Mary Poppins who only remains until the wind changes or the door opens, I will stay.