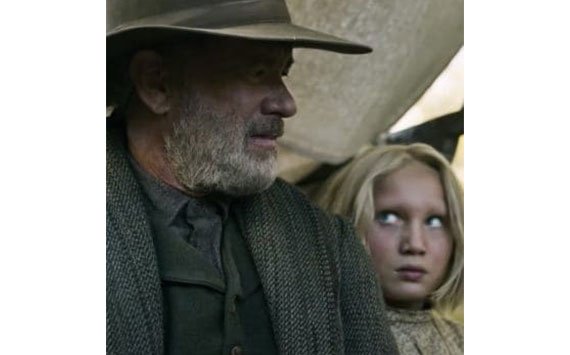 REVIEW: News of the World
What does your current relationship with the news media look like? According to Gallup, most Americans don't trust the mass media. Odds are, even if you do it's not completely. Not only is trust an issue, but as we enter digital spaces it becomes easier and easier to build echo chambers. Essentially, echo chambers are "situations in which beliefs are amplified or reinforced by communication and repetition inside a closed system and insulated from rebuttal." This concept has gained momentum as researchers have explored our relationship to social media and mass media, but, functionally, echo chambers have existed for much longer than Twitter. If that is news to you, then Tom Hanks and director Paul Greengrass have something to share with you, their new movie, News of the World.
Based on a 2016 Western novel by Paulette Jiles, NOTW follows Captain Jefferson Kyle Kidd (Hanks) who, in a post-Civil War Texas, makes his living travelling town to town reading the news to anyone whose got a dime and wants to hear it. What Capt. Kidd is really offering these isolated Texas towns is an opportunity to step outside their echo chamber. Imagine what communities in the American South were like in the immediate aftermath of the Civil War, or even before. Without news from the outside world, there would be a lot of opportunity to stew in the defeat and regret of the battles and continue to hold on to the narratives that brought the country to war in the first place.
Alongside Capt. Kidd, is Johanna, a young girl that was kidnapped and raised by the Kiowa tribe after her family was slaughtered. Kidd becomes responsible for transporting her across Texas to her extended family. Along the way he must learn to communicate with Johanna, who only speaks Kiowa and mostly thinks Kidd is kidnapping her again. As Kidd is offering the news from town to town, Johanna is offering him an opportunity for a second chance at life. The Captain got his rank from fighting for the confederacy in the war and that role left scars on his body, heart, and mind. Johanna's presence challenges Kidd to reckon with his past and the current state of the world complete with folks hanging on to the confederacy and intense fear of indigenous people.
The Reconstruction Era is a fascinating backdrop that probably should be explored more in film. I wonder what echoes of that time still ring in present day America. It is in the exploration of that time period that this movie shines. There are moments when you can see the impact that the art of story has on a community. The simple act of reporting the news can build bridges to life beyond what the people can see in front of their faces. Perhaps my favorite sequence in the movie involves Kidd sharing with a struggling community the story of a mine accident in Pennsylvania. You can see him trying to bring these two very fractured parts of the country to some common ground and it changes people.
Greengrass is most known, and most commonly touted, for directing the heart-pounding action of the Bourne franchise. If you are expecting Hanks to take down his foes with some martial arts and a rolled-up copy of the "Houston Chronicle" you're going to be disappointed. NOTW is a much slower, more methodical kind of action. Afterall, Kidd's character in the book is 71 and Hanks plays him as someone who has more than a little bit of hitch in his giddy up. Did you know that Tom Hanks can act? Well, he can and is classic Hanks here. He's warm and folksy with some of both Captain Phillips and Woody under his cowboy hat. Still, the film overall is telling a very complex story and may have benefitted from more focus on either the power of the news or the redemption of Capt. Kidd. It struggled to encapsulate both.
I can't imagine this is going to be the flick that will keep the kids' attention through the holiday, but the movie could act as that hardback history book we all bought our dads one Christmas or another. In the world of a thousand streaming services, maybe Hanks is creating a lane as the king of the dad movie. Our bright, white Air-Monarch-wearing public will probably find a lot to like in this old school Western, but for others it is interesting to contemplate how we absorb our news. Mass media might not be the answer, but echo chambers aren't either. We have to keep building bridges and sharing our stories. That is ultimately the power that news and technology offers us, pictures into the lives and experiences of others. We have the ability to reach out across miles and miles of space and time to learn, care, and grow. If we don't, then I've got some bad news for you, not a lot about our current world will ever change.
News of the World released in select theaters on Christmas Day.