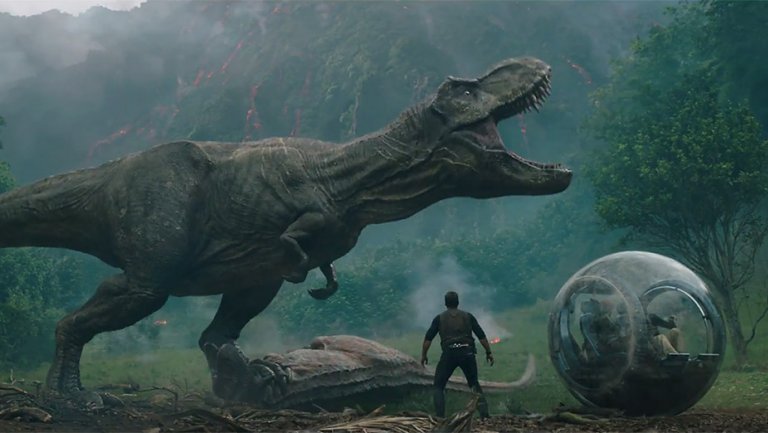 Jurassic World and the Creative Obligation
"We can't just let them die."
As the newly released "Jurassic World: Fallen Kingdom" opens, society is faced with a dilemma. After the natural disaster that occurred in Jurassic Park in the previous movie installment of "Jurassic World", the island containing the dinosaurs has been abandoned. It was clear (yet again) that trying to create and control nature will only result in chaos and unintended consequences. But the island of "Isla Nublar" that continues to be home for the dinosaurs is about to experience a volcanic eruption that would once again bring the creatures to extinction. Is that nature's way of self-correcting something that should never have happened in the first place, or is it an opportunity for environmental intervention? Not surprisingly, humans decide to act and make a Noah's ark-esque attempt to preserve the species from a second extinction.
The rest of the film follows the quest to rescue the dinosaurs from the volcano and then to decide what to do with them afterwards. At times the storyline relies heavily on tropes and jump scares, but overall it is a solid offering of dino-packed action and suspense. Perhaps the strongest aspect of the movie is the question of what creators owe to the things they create. The Jurassic Park franchise has always explored the difference between "can" and "should" as modern science pushes the limits of possibilities and ethics. This latest film dives deeper into the aftermath of living with our decisions and assessing who is obligated to handle the clean-up that follows our actions.
"Fallen Kingdom" invites us to wrestle with our motivations for creating new things. From dinosaurs to other scientific ethical dilemmas, why do we use our creative capacities? Is it to gain wealth and status? Is it to try controlling life itself and the avoidance of death? Can it simply be to enjoy something that is good and beautiful? If something that we have produced becomes out of our control, do we recognize our limitations or double down on seeking to have power?
The Jurassic films are so successful, not only because dinosaurs are real and that's awesome, but because they tap into an urge that is core to being human. To be created by God in the image of God means that to be human is to desire to create. The imprint of God within us and the Cultural Mandate to "be fruitful and multiply" (Gen. 1:26) propel us towards cultivating what is and wanting to make something that has never been. This is fundamentally a very good and Godly impulse. The world was not meant to be static but to be dynamic with humans acting as God's stewards who would unlock more and more of the creation's potential. Yet sin in the world and in our hearts projects a false narrative that we can be like God (Gen. 3:5), the ones who are in control. To be human is also to experience a perpetual struggle between producing things that are good in response to God's character, and trying to obtain mastery in response to our sinful hearts. If we have cultivated out of evil intentions then our ability to steward the growth of what we create will be gravely impaired. Like "Fallen Kingdom", will we seek flourishing for the beauty of the earth, or manipulate and violate the creation for our own ends?
Part of why we love to ask these questions about the motivations of the creator is because we feel that tension with God. Humans continually wonder if we were put here by a loving Creator who still cares for us. We fear the possibility that life could be random and that God could be careless or outright malicious. We wonder what we would do as creators of something new in order to find out what God might be doing with us. Our longing to be in control on earth is often to assuage our anxiety that there may be a lack of care in heaven. If we can establish that we take good care of what we produce, maybe we can believe that God will take care of us.
Pursuing that desire to be good caretakers can actually be exactly what God intended. If God gives us a picture of what it means to create, then God is also our best guide for tending the created order. God alone demonstrates pure motives and constant watchfulness towards the world.
24 Consider the ravens: They do not sow or reap, they have no storeroom or barn; yet God feeds them. And how much more valuable you are than birds! 
 27 "Consider how the wild flowers grow. They do not labor or spin. Yet I tell you, not even Solomon in all his splendor was dressed like one of these. 28 If that is how God clothes the grass of the field, which is here today, and tomorrow is thrown into the fire, how much more will he clothe you—you of little faith! – Luke 12:24, 27-28 (NIV)
If God is for us, who can be against us? 32 He who did not spare his own Son, but gave him up for us all—how will he not also, along with him, graciously give us all things? 35 Who shall separate us from the love of Christ? Shall trouble or hardship or persecution or famine or nakedness or danger or sword? 38 For I am convinced that neither death nor life, neither angels nor demons, neither the present nor the future, nor any powers, 39 neither height nor depth, nor anything else in all creation, will be able to separate us from the love of God that is in Christ Jesus our Lord. – Romans 8:32, 35, 38-39
We tend the creation because God lovingly tends to us. We know what it looks like to care for the world because we serve a Savior who exemplifies sacrificial love. We can act out of pure desires for flourishing because the Spirit gives us new hearts and better minds. In all things we look to the One who calls forth beauty and goodness, and the One whose eye is on the sparrow.