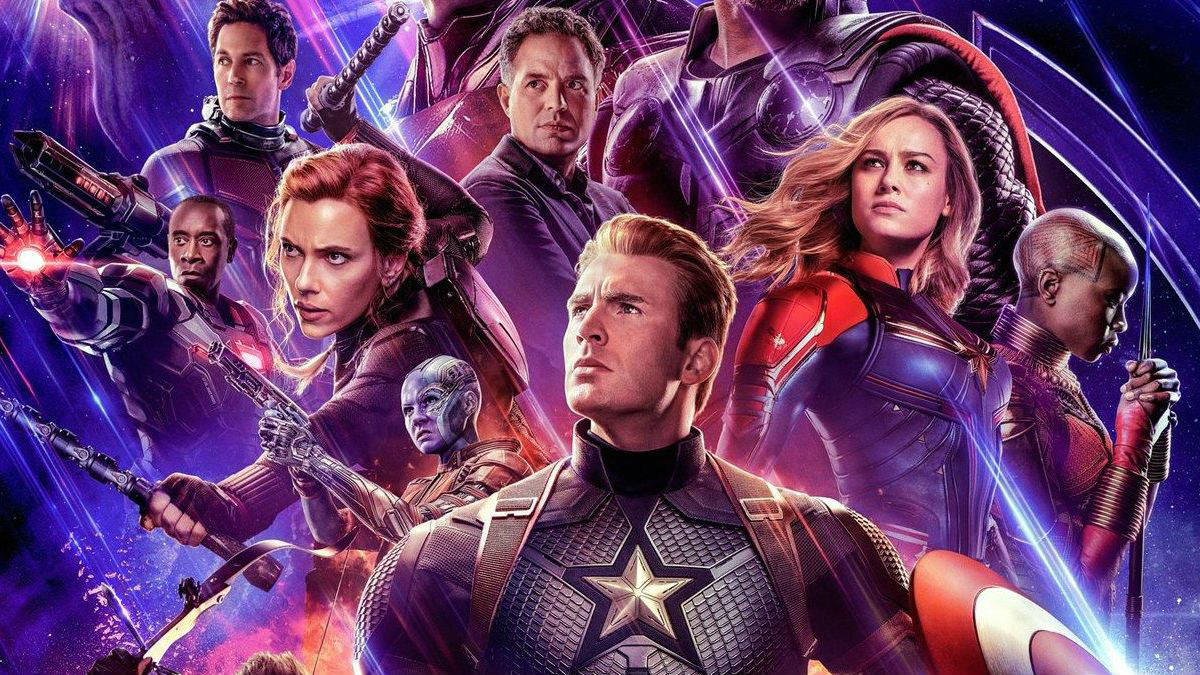 SPOILER ALERT: Another Avengers: Endgame REVIEW
Every time I think about the history-making finale to Marvel's Infinity Saga, my mind swells with the sweet sound of Adele's hit from another movie, "This is the end. Hold your breath and count to ten. Feel the earth move again. Hear my heart burst again." Avengers: Endgame capped off a major movie franchise 11 years in the making and has eclipsed dozens of box office records including a Galactus-sized opening weekend haul of over $1 billion. The Endgame has obviously struck a chord and did so making bold character choices, paying off a ridiculous amount of story arcs and references, and laid a solid foundation for the mysterious future of one of Disney's biggest cash cows. Let's take a deep, SPOILER-FILLED dive into the biggest movie of all time and marvel at the beautiful journey "Earth's Mightiest Heroes" have been on since Iron Man debuted in 2008.
The Avengers Initiative Failed
Seriously, we are headed for spoiler land. If you haven't seen Avengers: Endgame turn back now. The opening scenes of Endgame almost serve as a major trolling of the fan base! For a year now, fans have wondered why Thor didn't go for the head, why wasn't Captain Marvel there from the beginning, why couldn't our heroes punch Thanos harder and faster and win by the force of their wills. That is not the story of Endgame.
When Thanos's years long quest to bring the universe under his power unfolded in Avengers: Infinity War, he was battling against a divided Avengers. They were battered and broken from the battles that led them up to that point and the team was in shambles. They had all had their heroism challenged by their own mistakes but also the mistakes of their literal and metaphoric forefathers.
Think about the impact that Howard Stark, Hank Pym, Ego the living planet, the founders of SHIELD/Hydra, and Odin have all had on the Avengers! Think about the mistakes that had led to the creation of the Hulk, the creation of Ultron, or that war in Civil War. Just tally all Thor has lost by the end of the opening scenes of Infinity War! The story of the Avengers leading into the Endgame was filled to the brim with failure. If report cards were handed out after Thanos snapped his fingers, the Avengers would have earned a hard 'F'. Endgame is about the grief associated with the last decade of collective failures not about how hard they can punch. Thanos dies in the first twenty minutes of the film, and still the Avengers are left stewing in their losses. Where do they go from there?
The Hulk Smashes Relationships
Five. Years. Later. Endgame features a heartbreaking time jump for the "snapture" survivors, and, as we catch up with the heroes, it's easy to define those five years by what the Avengers have been doing in that gap. However, what might be more telling is what they haven't been doing. With the exception of Tony, no one has established any new relationships and they certainly haven't revisited past ones.
Hulk finally returns from space and he and Black Widow survive the snap. Why are they not together? It's not even just that they're not together, but Bruce Banner has been working instead to reconcile his relationship with the Hulk permanently transforming into the hybrid Professor Hulk or Mister Fixit. Bruce can say all day that he did this to exist in a healthier state, but it's also a really convenient state to avoid starting a relationship with Natasha. Before he left for space, they had all but admitted their love, but after the snap, after so much loss, they are avoiding having to lose anyone ever again.
Why haven't they rebuilt a version of Vision? Sure, Scarlet Witch was dusted, but Vision was everyone's friend and Bruce and/or Tony definitely would have the means over five years. It only took them a handful of days to turn the Mind Stone into Ultron. Recreating Vision would be too strong a reminder of the casualties of the Infinity War and that the joys of loving are paired with the grief of loss. And grief sure has taken hold in the MCU.
Thor's Dark World
The Marvel movie machine was in desperate need of a course correction after the universally panned Thor: The Dark World. Yes, it introduced the Reality Stone. Ok, it featured continued growth in the relationship between Loki and Thor. Absolutely, Rene Russo was a great Frigga (Thor's mom). Definitely, the final battle was creative. However, Thor 2 was birthed in the midst of The Hobbit taking us back to Middle Earth and Game of Thrones sweeping the media landscape. What is so appalling about Thor 2is that it tried to copy the vibe of both of those universes without succeeding at either. Marvel has always tried to be a cinematic innovator, but this just felt like they were copying people's homework. Then came Thor: Ragnarok with a new comedic thrust, a galactic setting, the companionship of The Hulk, and the vision of director Taika Waititi. Pairing Thor with the Guardians of the Galaxy in Infinity War cemented this new direction. Thor is funny now! But humor can often be used to hide deep pain.
Across the 6 films that have featured Thor, he has lost his entire family and his entire support system. His story in Infinity War was a quest for redemption for all he has lost. He travelled across the universe and took the full force of a star all to prove that, even with all of the bodies in his wake, he is still worthy. A new weapon was born, and, if he could plunge that weapon into the universe's biggest threat, his worth would be proved once and for all. Thor did plunge, and it meant nothing. Thanos won and, while all the others were tossed aside, Thor stood alone watching from inches away as a simple snap murdered billions. He fails once more in the opening of Endgame when the team realizes there is no reversing the snap. Not only could his worth not be earned with an axe, but it's quite possible he was never worthy at all.
The Thor we meet in Endgame is very different from past films. Some of that is played for comedy, but the truth is far more tragic. Thor is depressed and coping by self-medicating with alcohol. The character change is jarring unless you realize it's always been there, and he has actually been covering it up with a smile and a wink. Thor's comedic transformation served him in hiding deep trauma and pain all of which comes crashing down at the beginning of Endgame.
How fitting is it then, that for Thor to be redeemed, he has to return to the film that was Marvel's biggest creative failure to date, Thor: The Dark World. Not only does he get some closure with his mother, but gets a powerful reminder that he was born with inherent worth into a family that unconditionally loved him. He has virtue that no amount of failure can take away. Thor needed to have his armor of bravado and masculinity ripped away and his comedic defense mechanism defeated in order to set him up for future flourishing, and he's not the only one who has a past that needed confronting.
Cap Had to Move On
Steve Rogers has always been a man out of time. Contrasting him against morally complex characters like Black Widow and Tony Stark, his personal constitution has never really fit in the modern world. Even the war that created Cap was slightly more clear cut. There were pretty clear lines between the good guys and the bad guys. Then he came out of the ice in an era of modern warfare, political corruption, and anti-heroes galore. Hardened by the Infinity War, Cap's optimism and morals are still there, but this is a man who, over the course of these films, has gone from blurting out, "Language!," in Age of Ultron to exclaiming, "Let's go get this son of a [expletive]!," in Endgame. The present reality has been tearing down the man of the past.
For awhile, Bucky Barnes the Winter Soldier has kept Cap tied to some part of himself from the past, but Bucky was dusted. His friend Sam the Falcon understood Cap on a level that a fellow soldier only could, but he is gone as well. In the five years after the snap, Cap tries to move on by helping others move on. The problem is that he can't forget the Infinity War because he never really forgot the past. You can see it in his face in that support group early on in Endgame. He's saying all the right things and talking about how the survivors have to hope for the future and what could be. Steve tells that group that if they don't start living their lives than they might as well have vanished too, but you get the feeling that part of him wishes he had maybe vanished, not in the snap, but all those years ago in the ice.
He's tried for years to accept his present. Joining the Avengers, defeating Hydra, and saving Bucky were all attempts to move on, but at the end of the day he's still looking longingly through the window of the past at Peggy. She was supposed to be his future. In the final moments of, Captain America: The First Avenger, he runs into Time Square in a completely unrecognizable world and when a stranger in an eye-patch asks him if he's going to be ok he says, "Yeah, its just…I had a date." In the Endgame, Cap is surrounded by hundreds of Avengers and finally utters an, "Avengers…ASSEMBLE!" The problem is, no one in that battlefront is Peggy. So it should come as no surprise that, with time travel now in play, he can finally move on…to the past. As the credits are about to roll on the Infinity Saga, we are treated to a scene just moments after reuniting…Peggy Carter's home…the door still swung open from Cap's entrance…and they finally have their dance. It is a poetic and perfect end. Steve had to return to the past just as…
Tony Stark Had to Die
He started it all! There's two ways to look at that. Iron Man, Tony Stark, can take credit for launching the MCU and creating a space for heroes to rise or it's fair to say that it's all his fault. Well, to be fair, it is his fault but the blame also lands on his father, Howard. Think about the big events that have pushed us through a decade of storytelling. Stark weapons and the wars they featured in manufactured and created the need for Iron Man. Sure, Tony had a literal and figurative change of heart, but when we put weapons down it nearly always creates new fears. Fears that simply never let Tony rest.
A Stark missile planted the seeds of revenge that pushed Wanda to give Tony a nightmare that scared him into creating Ultron who incited the events in Sokovia that inspired the Sokovia Accords that started the civil war that broke apart the Avengers who then weren't ready for Thanos. Tony is a futurist, but a side effect is that living in the future means living with fear. Allowing our minds to constantly live in the future places us in the prediction business and part of predicting the future means accounting for the worst possible scenario. The vision from Scarlet Witch wasn't new. It was already something in Tony's mind, but that's not all that has been in his mind since the beginning.
Tony wanted so desperately to shift the focus of his company and his family to making the future brighter, but it has always been tied to a dark past. All of his solo films featured villains born of his father's mistakes and mistakes he made trying to be his father. So Tony's tireless work isn't just about ridding the future of fear, it was about breaking the cycles of the past. The problem is that Tony was a part of that past. So much of the world viewed Howard as a villain and that made it impossible to view Tony as a part of a purely optimistic future. When Tony wielded the iron Infinity Gauntlet and completed the snap that ended his life, he was breaking the thick chains of his father's past mistakes and redeeming his present mistakes for all time. This could have only happened with the next generation watching, and now Morgan Stark will grow up in a world where Iron Man is the hero that saved the universe. Tony Stark gave his life very publicly for the sake of a future that his child, and many others, can now imagine without fear. That is what heroes do.
Black Widow's Ledger is Clean
Redemption sure does come with a high cost. This is something Natasha Romanoff knows all too well. Tony Stark did almost everything in front of the brightest flashbulbs and biggest crowds he could. He was the Avengers' most public hero, and his contrast was the Black Widow. From the very beginning, she has been the definition of a spy. She was complex, always playing multiple sides and evaluating every scenario like a chess board. Spies have to stay hidden to do their best work. And so it makes sense that while Tony's death was very public, Natasha's was very private and intimate. She died in the company of a close friend on a remote planet and was mourned by a small group at a secluded base. The nature of her death definitely makes sense, but the death itself definitely doesn't to anyone…but her.
Natasha could never have a family like Hawkeye or Tony. She didn't have the purity of Captain America or the powers of Thor, but Black Widow's life is no less valuable than any of the other Avengers. However, it has been obvious from the first Avengers movie, and even more so in Age of Ultron, that she felt very differently. Throughout, these films Black Widow has carried a very heavy weight, as she calls it a ledger with red in it. All she has ever wanted to do was to repay that debt to the world, and seemingly specifically to Clint Barton, Hawkeye, as she tells Loki in The Avengers. Tony couldn't rest because of his fear, but Natasha could never rest because of the weight of this debt.
Then an opportunity arose for her to give all she had for the sake of her newfound family, and also, to Clint. It is obvious in Age of Ultron that she had been working hard for years to protect Clint both on the field and by keeping his family a secret, but in her final moments on Vormir she sees the chance to make things right forever and ever. She could protect Clint, her family, and the universe one last time. Now Black Widow's ledger is forever clean and then some. It's everyone else who owes a debt to her, one that can only be paid by a life of flourishing and a life spent helping the Natashas of the future see just how valuable they are regardless of the red in their ledger. Black Widow was the only woman in the initial circling shot in The Avengers. Her willing sacrifice paves the way for many heroes to follow and proves that actually…
The Avengers Initiative Worked
"There was an idea…called the Avengers Initiative. The idea was to bring together a group of remarkable people, see if they could become something more. See if they could work together when we needed them to to fight the battles we never could," Nick Fury explains in The Avengers. This was the idea that started this journey. It was an idea of a man who saw the exact opposite happening. Before Tony Stark was kidnapped, before Natasha Romanoff was made a spy, before Bruce Banner was hit with Gamma Rays, before Thor was banished to Earth, there was still no shortage of remarkable people. Odin, Howard Stark, Hank Pym, Bill Foster, King T'Chaka, and Peggy Carter were all avenging the world at the same time but they were missing one key ingredient to Fury's idea. They weren't working together.
There is plenty of evidence right in front of us. Do you think there really wasn't anyone in the span of history that could recreate the super soldier serum that created Captain America? Everyone wanted to try but because greed, fear, ego, oppression, and division got in the way the story of the MCU is littered with the failings of not working together. The Hulk himself was the result of a failed attempt. What if Bruce and Tony worked together from the start? Maybe they would have gotten it right! Do you think nobody thought about time travel before Tony figured it out in Endgame? What's interesting is that Tony wasn't the key to time travel, Pym technology was! They needed Pym particles and the quantum realm research combined with Stark's technology to do it. Tony and Scott Lang did something together that Howard Stark and Hank Pym were too proud to do. Imagine if more people were helping Peggy Carter succeed instead of holding her back because she's a woman. Maybe Hydra doesn't infiltrate SHIELD.
The story of the Avengers was never about any one hero, it was about the idea that if people could see the potential in the differences of others and combined our collective contributions and skill, no one could defeat us. In so many ways, the emotional state of the Avengers in Endgame were scars from the sins of the past, a past where the universe's most remarkable beings couldn't or wouldn't work together. Now we move into a phase where T'Challa has opened his borders, everyone recognizes the power of Captain Marvel, and the wide-eyed optimism of Peter Parker is undeniable. The Avengers have assembled, and hopefully, one day may inspire us to do the same.
same.