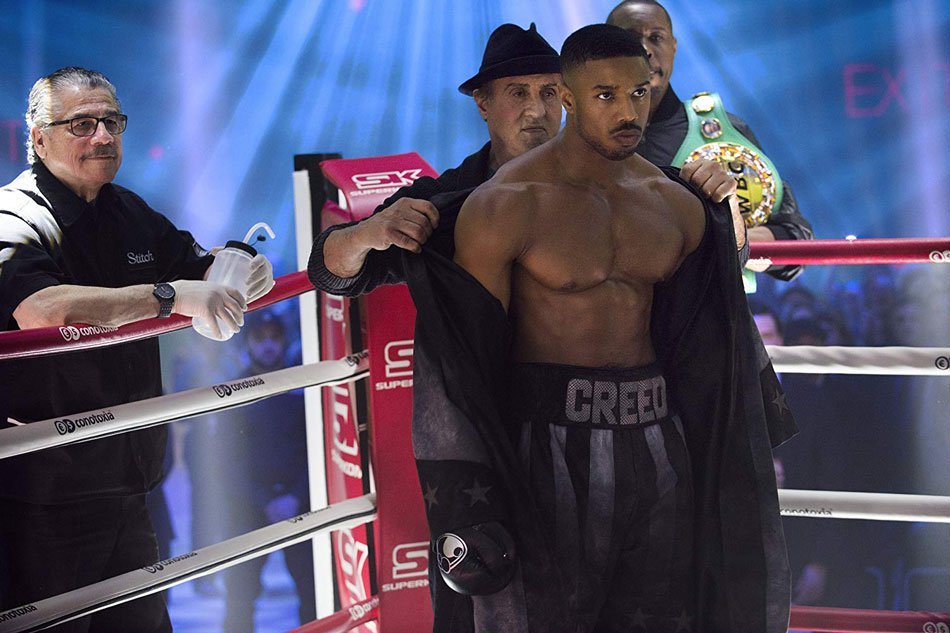 REVIEW: Creed II
The story of Creed II, the follow up to 2015's revitalization of the Rocky franchise, really begins in 1985 when Sylvester Stallone's iconic character, Rocky, met perhaps his most infamous foe, Ivan Drago, played with stoic intensity by Dolph Lundgren. The seeds that have become the Creed franchise were all planted in thisfourth installment in Rocky's story.
It's in that movie that Adonis Creed's (Michel B. Jordan) father, Apollo (Carl Weathers) was killed by the mad Russian in the middle of the ring after Rocky fails to throw in the towel and stop the fight. When Apollo fell to the mat for the final time, the conflict of Adonis's life began to take shape. Apollo didn't want Rocky to throw in the towel. He was done fighting, and fighting was all he had. This tragedy launched Rocky towards a fight with Drago, a fight that would leave Drago to a life of disgrace and bitterness. And this tragedy left Adonis not just fatherless, but also without any of the answers his father was lacking about life.
In 2015's Creed, Adonis had to wrestle with his identity as a Creed and as a fighter. What did it truly mean to be Apollo's son? It's a question he was asking from the beginning when Mary Anne, Apollo's wife, told him who he was. It's a question he asks every time he steps in the ring. By the end of that initial story, Adonis dons his father's trademark trunks adorned with the Creed name, as well as his mother's, Johnson. Through that first film, Rocky taught him how to fight, how to embrace who he is. Creed II, however, gives Adonis even deeper questions to answer.
If movie one was asking what did it mean to be Apollo's son and a fighter, the sequel is asking what does it mean to be a father and a man? Rocky IV happened in the middle of a decade that was, in many ways, defined by toxic masculinity. The everyman with the heart of a champion from the Academy Award winning Rocky, was replaced by a greased up, steroidal version. This was true of some of Stallone's most well-known roles. John Rambo went from an intense critique of our treatment of Vietnam veterans to one giant muscle with a machine gun. Look to other popular culture from the 80's and you'll be drowning in a testosterone tsunami. Raunchy teen comedies were a dime a dozen, and Hulk Hogan was flexing his way into a household name.
This was an environment where Apollo Creed thrived. He could prove his manhood with every foe punched into oblivion, but when we meet him in Rocky and Rocky II, he's already a star in decline. How then can he prove his manhood? Based on Adonis's age, Apollo's extramarital tryst that conceived him had to have taken place in close proximity to his death by Drago's glove. Still he stepped into the ring with the Russian. Sex couldn't make Apollo a man. He lost to Rocky. He was outmatched by Drago. Boxing could no longer make Apollo a man. So, he threw in the towel on life. Apollo's inability to find a manhood that was more than muscle gave Adonis a life without a father.
In Creed II, we find that Ivan Drago similarly suffered to discover meaning beyond boxing. His loss to Rocky knocked him down further than we saw in Rocky IV, and because of that his son, Viktor, grew up with a bitter boxing coach rather than a father. Viktor is nothing more than a tool Ivan will use to restore his own manhood, to redeem his loss to Rocky. To truly win by the end of Creed II, Adonis needs to break this cycle of toxic masculinity. He has to find something beyond all the drills, the fights, and the bright lights of fame. He can't avoid being a Creed, but he has to avoid being Apollo.
Not every punch Creed II throws lands. It's not as ground breaking as its predecessor, but in the stories of this next generation of men there is something really special. If viewers can go along with Adonis (and Viktor) on this journey and reflect on what it is that could make him successful in the end, perhaps we can all learn from the mistakes of the past. The sweaty machine gun masculinity of the 80's was a steroid-fueled façade. If men are going to fight the good fight of life, it involves humility, partnership with women, and profound selflessness. For Adonis, this is a painful lesson, but one that takes him beyond his father's legacy.